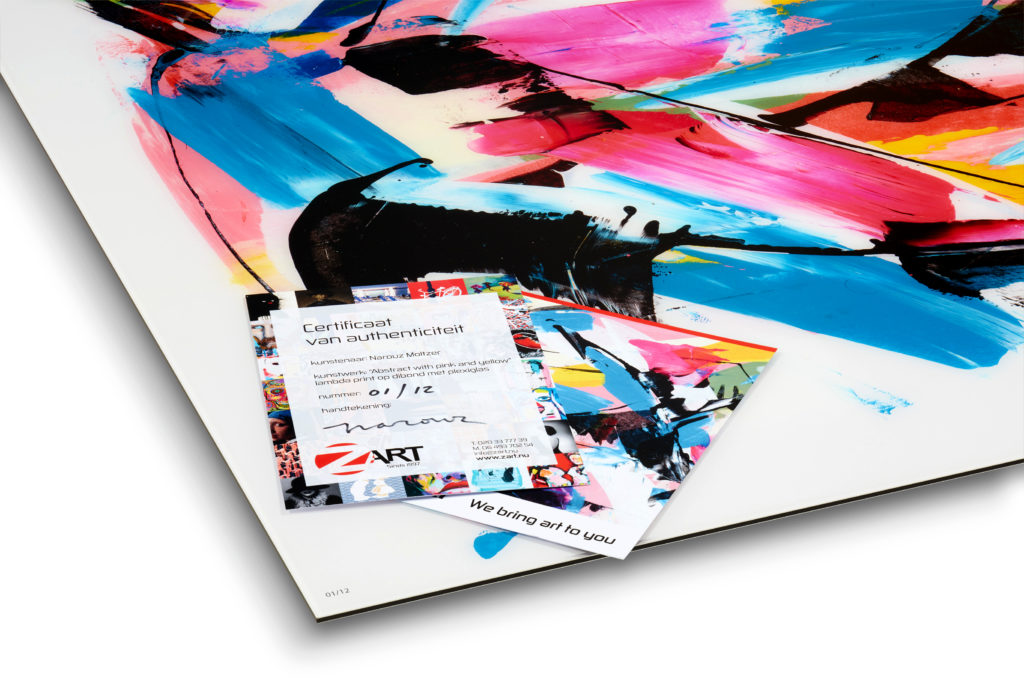 Beter dan het origineel.
"Abstract with yellow and pink" is een reproductie geworden van museumkwaliteit met een levenslange levensduur. Geen waardeloze copy, maar een gecertificeerd kunstwerk. "Abstract with yellow and pink" wordt in een gelimiteerde oplage van 12 stuks door Zart aangeboden. Elke editie wordt geleverd met een door Narouz Moltzer gesigneerd certificaat van authenticiteit, zoals u dat van Zart gewend bent.
Het maken van een goeie reproductie is een kunst op zich.
Deze keer maakt Zart geen reproductie van een schilderij van Narouz Moltzer, maar van één van z'n "pretty little things". Kleine kunstwerken op papier, die ik in grote hoeveelheden in zijn atelier aantrof. "Kijk maar of er iets voor je bij zit". Waar moet je dan beginnen? De Zart-collectie kan nog wel een kleurig abstract kunstwerk gebruiken. Moltzer zegde toe dat diegene die ik voor reproductie uitzoek, niet meer als origineel te verkopen. "Abstract with pink and yellow" was één van de weinige horizontale "pretty little things" en nog abstract ook. Dat past goed boven een bank. But it's little !
Om van "Abstract with pink and yellow" een reproductie te maken die groot genoeg is om boven een bankstel te pronken, ben ik opzoek gegaan naar een printer die het origineel kan vergroten zonder in te leveren op kwaliteit. De Durst lambda printer blijkt de aangewezen machine voor het maken van groot formaat "high quality" afbeeldingen. Er is geen andere printer ter wereld die beschikt over een groter kleurenpalet, maar liefst 68 miljard kleuren. Het fotolab waar Zart mee samenwerkt heeft de beschikking over maar liefst 3 lambda printers .
De Durst lambda printer.
In tegenstelling tot andere printers maakt de lamda printer geen gebruik van inkt, maar belicht fotogevoelig papier. Het papier wordt door 3 lasers RGB (rood groen en blauw) belicht. Via een gepatenteerde, snel roterende trommel wordt het beeld lijn voor lijn opgebouwd. Deze techniek geeft flexibiliteit aan het formaat, zonder dat er kwaliteitsverlies optreedt. (Te vergelijken met 4000 dpi op een inktjet printer). Dit proces maakt het mogelijk om van kleine bestanden hele grote afbeeldingen te maken.
Het belichte fotopapier door een chemisch proces wordt ontwikkeld. Precies zoals dat vroeger gebeurde met foto's in een doka. Voor de "lambda print" wordt gebruik gemaakt van Fuji Crystal DP II papier. Professionals, zoals musea, galeries, kunstenaars kiezen altijd voor fotoafdrukken op Fuji Crystal DP II papier om hun fotorealistische weergave, natuurlijke uitstraling en een levenslange kleurechtheid.
Groter dan het origineel.
De afdruk is vele malen groter geworden dan het origineel (wel 4 keer zo groot) en ondanks dat is scherpte en intensiteit van het origineel intact gebleven. De reproductie van "Abstract with pink and yellow" heeft het nu het formaat van een kunstwerk wat wel groot genoeg is om boven een bankstel te pronken.
De duurzame afwerking van de reproductie, heeft "Abstract with yellow and pink" precies de uitstraling gegeven waar ik naar opzoek ben.
Plexiglas op dibond.
Door de reproductie te verlijmen tussen dibond en plexiglas heeft het een esthetische en minimalistische uitstraling gekregen. Dibond is een sandwichplaat van 2 aluminium buiten lagen van 0,3mm dik en een kernlaag van zwart polyethyleen. Dibond is vormvast lichtgewicht en temperatuurbestendig. Door de afwerking met plexiglas (plexen) krijgt de afbeelding een extra dimensie met briljantere kleuren, een optimaal contrast en dieptewerking. Een geplexte afbeelding is duurzaam en gaat onder ideale omstandigheden een leven lang mee.
Of de reproductie beter is geworden dan het echte werk zou ik nooit kunnen of durven te beweren.
Het is sowieso een echte Narouz Moltzer !!!