"Poppy"
"De bolpapaver of slaapbol (Papaver somniferum) heeft een karakteristieke zaadbol, die ook wel de maanbol wordt genoemd. Uit het gedroogde melksap van deze maanbol kan opium gewonnen worden".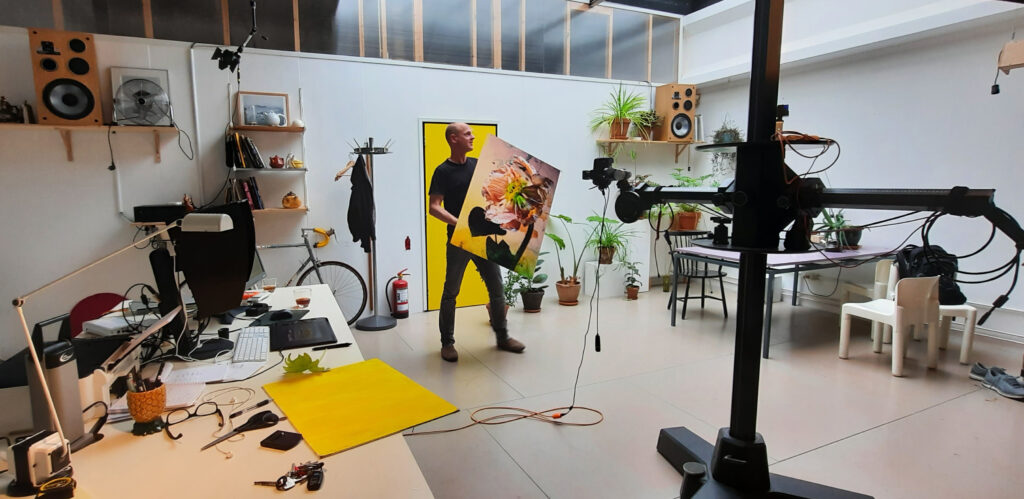 Fotografie van Tim Johannis laat zich kenmerken door een verfijnd gevoel voor licht en oog voor detail. Niet zelden hebben zijn foto's een gelaagdheid op het vervreemdende af. In zijn studio is hij als een vis in het water. Naast zijn kunst, werkt hij in opdracht voor een diverse klantenkring.
Zijn werk 'Poppy' is een typisch voorbeeld voor zijn manier van werken. Het is voortgekomen uit zijn behoefte zijn werk naar een meer schilderachtig niveau te brengen. Het proces van het maken van dit werk is anders dan meeste foto's die in de studio gemaakt worden. Namelijk heel precies samengesteld en elke vorm van toeval uitgesloten. In dit werk heeft de fotograaf gezocht naar een manier om het onverwachte toe te laten. De nauwkeurig verlichte bloem is typisch voor zijn licht gebruik. Een sterke schaduw die het beeld een grafische kwaliteit geeft. In dit geval is het de bloem die uit de schaduw treed om zich te openen voor het licht.
Zart heeft het productieproces van "Poppy" opzich genomen. Vanwege de fotorealistische weergave en natuurlijke uitstraling heeft Zart voor "Poppy" gekozen voor een lambdaprint, op dibond met glashelder acrylaat
De keuze van Tim Johannes en Zart voor deze high end uitvoering heeft geresulteerd in een museumwaardig kunstwerk van 100cm x 70cm met frisse uitstraling. Een perfect kunstwerk om uw interieur mee op te waarderen. "Poppy" zal door Zart in een oplage van 12 stuks worden aangeboden en wordt zoals u gewend bent met een handgesigneerd certificaat geleverd.
Wilt u weten of "Poppy" uw interieur in een hogere sfeer kan brengen? Druk dan op de knop hieronder.